The limited liability company G.W.mont, s.r.o. was founded in 2006 with a focus on complex deliveries of technological distribution pipelines for electrotechnical, chemical and pharmaceutical industry and laboratory operations.

We offer turnkey supplies including technical preparation and project and construction documentation preparation, supply and laying of pipelines on the spot, commissioning and, last but not least, all required tests and revisions.
Our employees possess extensive experience in laying ultra pure distribution pipelines for manufacturing clean rooms.
Pipelines for distribution of special media and gases for the semiconductor industry
Pipelines for distribution of clean media for the pharmaceutical industry (purified water, injection water, clean steam)
Pipelines for distribution of technical gases (pressurised air, nitrogen, oxygen)
Pipelines for distribution of clean media for the pharmaceutical industry (purified water, injection water, clean steam)
Sources and pipelines for distribution of laboratory gases
Distribution pipelines for building technology
Product distribution pipelines, CIP/SIP systems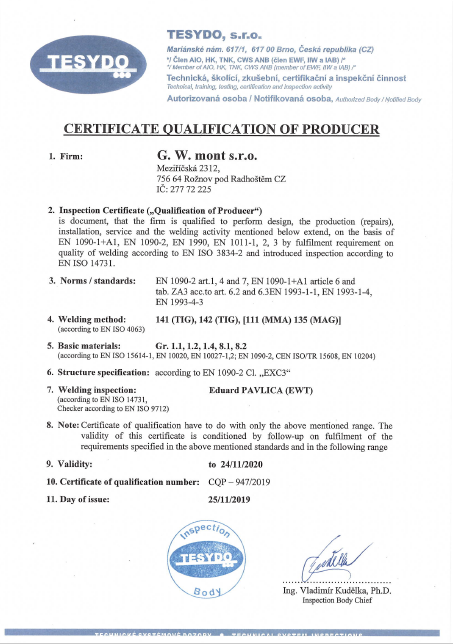 Producer qualification certificate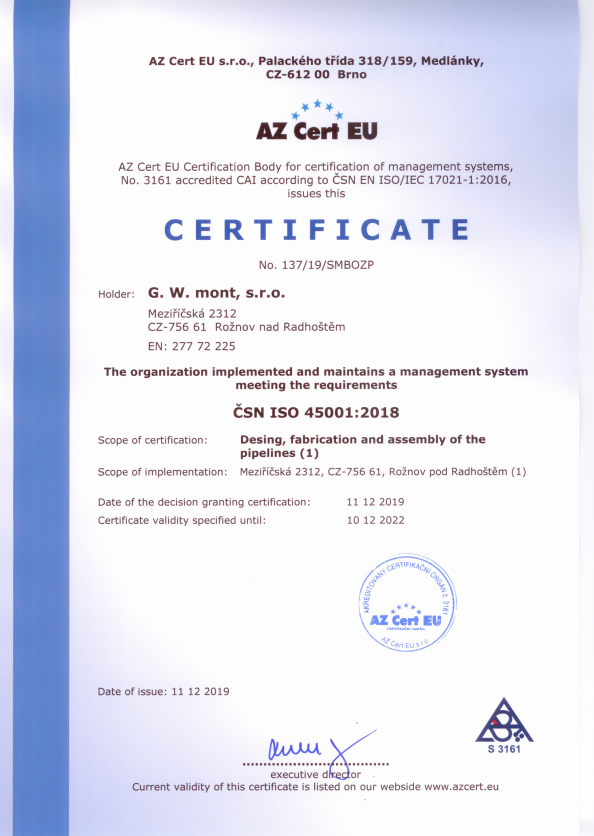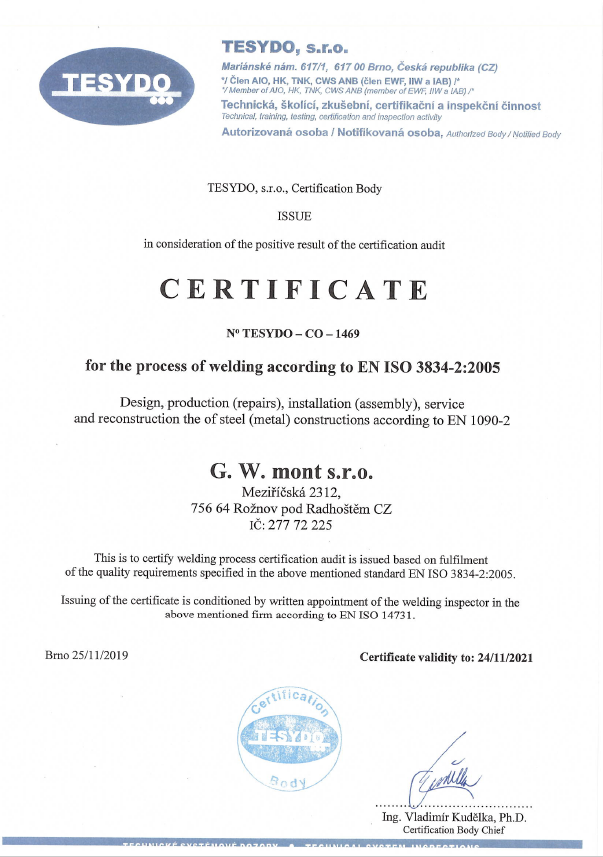 Wielding process certificate
Stainless distribution pipelines
We specialise in manual and orbital welding of stainless steel pipelines of high quality and purity. For distribution pipelines for special gases and media of high purity there are stainless pipelines and fittings with  inside electrolytic polish (AISI 316L, Ra ≤ 0.18 µm), for distribution of toxic and highly flammable media or aggressive chemicals there are stainless coaxial pipelines AISI 316L.
In the context of manufacturing preparation we make filtration, reduction and gas distribution panels, which help to saving space and time during assembly.
List of feasible technical gases
Argon, Helium, Carbon dioxide, Sulphur fluoride, Hexafluorethane, Tetrafluormethane, Acetylene, Silane, Dichlorsilane, Arsine, Hydrogen, Oxygen, Nitrous oxide, Nitrogen trifluoride, Ammonia, Boron trichloride, Hydrogen bromide, Chlorine, Hydrogen chloride, Diborane, Phosphine, Methane, Silicon tetrachloride, Propane butane, Tetraethyl orthosilicate, Carbon monoxide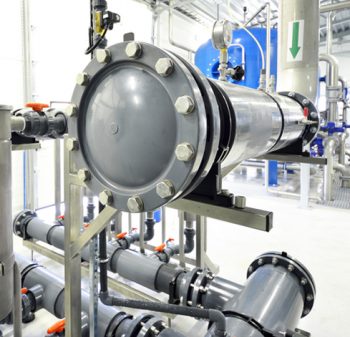 Plastic distribution pipelines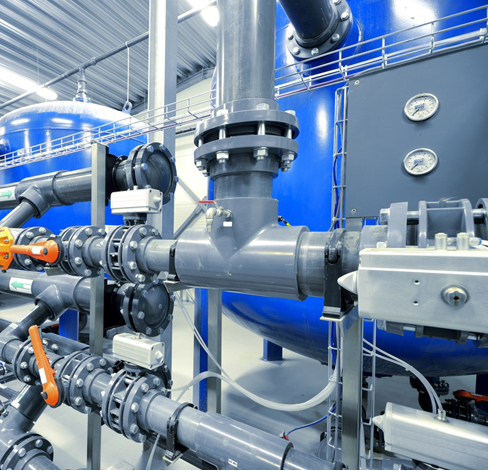 Plastic pipelines are used for distribution of demineralised water, chemicals, technological sewage, domestic sewage, cooling water, etc. Plastic pipelines are used for their resistance to chemicals, non-corrosive properties, and tolerance of operation pressures, temperatures and mechanical stress.
Subject to the material used and properties required, plastic pipelines can be connected by gluing, polyfusion, butt welding or with electro fittings. Plastic pipelines for very clean media are welded by IR (Infra red) or balloon (BCF = bead and crevice free) method.
We possess experience in supply and installation of sources and laying of pipelines for ultra pure demineralised water distribution in the semiconductor industry (specific resistance ≥ 18 MΩ.cm). We provide comprehensive supplies of technological subsystems of demi stations including tempering, accumulation, TOC reduction, mixbed filters, filtration  (0.2 mm and 0.1 mm), degassing, measurement and regulation, electric power supply. Circulation pipelines for highly purified demineralised water are made of plastic  PVDF (polyvinylidene-fluoride) pipes welded by the BCF method.
Designing of distribution pipelines and technological units
We prepare all stages of project documentation connected with preparation and laying of distribution pipelines from studies and building permit projects to implementation and as-built documentation including engineering and consultancy activities.
We prepared documentation according to client requirements, supply documentation is worked out down to the smallest detail to assure problem-free implementation and correct function of the resulting pipelines and systems. In the project documentation preparation stage we closely cooperate with the investor, future user and suppliers of the individual elements, components and subsystems.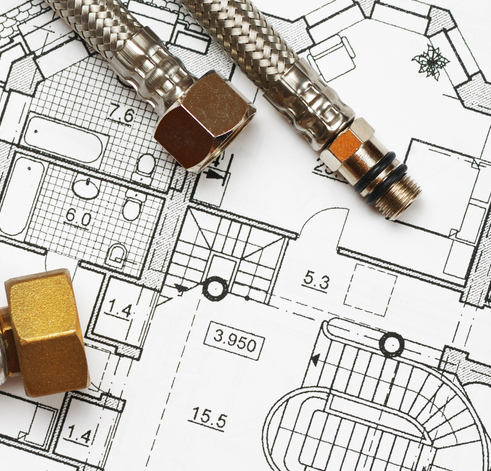 We have implemented project in:
The Czech Republic, Slovakia, Germany, Poland, Belgium, Switzerland, Belarus, Russia, Lithuania, Moldova
Basic contact information
G.W. Mont s.r.o.
Meziříčská 2312
756 61 Rožnov pod Radhoštěm
+420 571 619 207 , +420 602 764 402
+420 571 619 207 , +420 777 063 237
administrativa[at]gwmont.cz
Stainless material procurement official
+420 571 619 207, +420 732 194 308
Plastic material procurement official
Head of stainless manufacture
Head of plastic manufacture
Designing / engineering activities
+420 571 619 207, +420 725 376 253